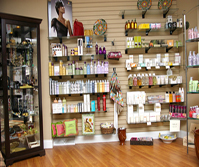 Hours and Directions
Get To Salon La te Da
Salon La te Da is open during the following hours:
Sun /Monday Closed
Tuesday 10 a.m. -9:00p.m.
Wednesday 9a.m.-3p.m. Thursday 10a.m.-9p.m.
Friday 9a.m.-4p.m.
Saturday 8a.m.-4p.m

We are conveniently located at the corner of Castle Shannon Boulevard and Scott Road in fashionable Mount Lebanon. Click on the link below to download a handy map. We'll be waiting for you!