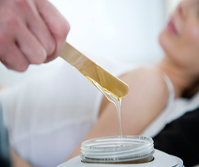 Waxing
Designed to rid the body of unwanted hair, our full body waxing services are performed by a knowledgeable (licensed)esthetician ready to answer all of your waxing concerns in a private, comfortable setting.
Full Leg $70
Half Leg $35
Bikini $35
Brazilian $80+
Underarm $30
Forearm $35
Full arm $45
Back $60+
Full Face with brow $45
Chin $10
Lip $10
Brow $15
Please Note:
We regret that we cannot perform waxing services on clients who are taking Accutane, Retin-A, or antibiotics that thin the skin due to the sensitivity these products cause the skin. We recommend that waxing services be performed when the hair growth has reached approximately 1/8"-1/4" in length, or 3 to 4 weeks of growth.