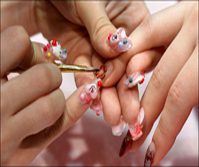 Nails
A perfect manicure and pedicure is your best accessory and will never go out of style. Our nail technicians will pamper your hands and feet leaving them feeling and looking their very best. We carry a wide selection of O.P.I. products to choose from, including the newest color collections.
We also carry O.P.I. gel polish and Minx nail products.
Gel polish, available only as a professional salon service, is a gel that looks just like regular nail polish but wears flawlessly without chipping for up to two weeks.
For those that love to stand out from the crowd Minx nails are the latest creation in the nail world. Minx nails can be seen on celebrities from Beyonce to Lady GaGa and we are the only salon to carry this product in the South Hills area! For more information on this cutting edge product visit
www.minxnails.com.
Manicure
Spa Manicure
French Manicure
Gel polish Manicure
Minx Manicure
Pedicure
Spa Pedicure
French Pedicure
Manicure & Pedicure
Spa Manicure & Pedicure
French Manicure & Pedicure
Polish Change
Toe Polish Change